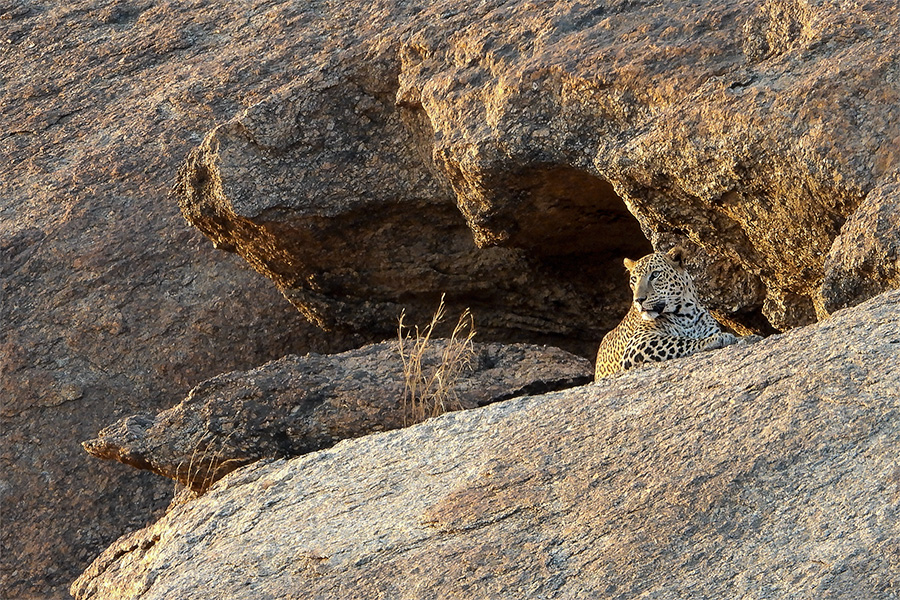 Bera is a tiny town situated in the Pali district of Rajasthan. It is home to a number of leopards and thanks to less coverage in the media, this place even in spite of net-edge remains largely unexplored by the tourists. Limited coverage of the place makes this place less known among wildlife lovers. However, with the word of mouth publicity, lately, it is getting popularized as a leopard nation.  In fact, such is the excitement of shooting the leopards in their natural habitat that it is a dream to-do list of  the wildlife lovers visiting Bera. It enjoys the boundaries with Aravalli hills landscape and offers a pleasing sight thanks to large terrain of green vegetation including cactus and keekar. The Aravali foothills, hillocks, and small caves of the area make for a perfect habitat for leopards. Besides this natural den abundance, this place is arile attracting herds and providing easy prey to for the leopards. This place has also access to the river Jawai and the Jawai dam which adds to the scenic beauty of the place besides offering ideal hunting ground for the leopards. Bera is also home to biggest crocodiles, and migratory birds visiting the place every year. Because of the frequent flocking of the wild cats, this land which was once a revenue land and has now been under the process of earning the tag of being a wildlife sanctuary according to the Govt. of Rajasthan 's latest notification. 
Fauna & Flora
Besides the big crocodiles and untamed leopards, Bera is also the habitat of nilgai, hyena, jungle cat, Indian grey mongoose etc. This place is also home to sloth bear. Under the avian category, the bird lovers will find this place worth visiting because of its space for owl, osprey, egret, pond heron, Indian pond heron, and Indian robin. It also attracts a number of migratory birds every year including black-shouldered kite, parakeet, common sandpiper, house sparrow, sarus crane, large cuckoo shrike, pelicans, ruddy shelduck, greylag goose, pelicans,  Asian openbill stork, common sandpiper, grey-headed canary flycatcher, black ibis, red throat-ed fly-catcher, and oriental magpie robin.
Day 1: Udiapur Airport – Bera, Rajasthan
On arrival at the Udaipur airport for this wildlife journey.  After reaching, you will be taken to Bera, which is around 140 kms from Airport and takes around 3-4 hours to reach. After reaching, you will be check-in at the pre-booked Lodge and take some rest. After lunch, you will leave for afternoon safari. After the safari, back to the lodge, Have dinner. Overnight stay at Lodge.
Day 2 – 3: Bera, Rajasthan
We will leave for the morning safari. You explore the fauna and flora of the National Park. This safari lasts for around two to three hours, then return to the lodge. Then freshen up, have breakfast, and rest for a few hours.  After lunch, you will leave for another afternoon safari. After the safari, return to the Lodge to relax. Enjoy the delicious dinner and overnight stay at the lodge.
Day 4: Bera – Udaipur Airport
We will leave for the morning safari then return to the lodge. Then freshen up, have breakfast.  Check out and drop you at Udaipur Airport to board the flight for your home. Trip Ends
By Air: The nearest Airport for Bera are Udaipur & Jodhpur. Udaipur is 145 Kms / 03 Hrs Drive & Jodhpur is 180 Kms / 04 Hrs Drive from Bera. One can get regular flights for Jabalpur & Khajuraho from all major airports of India.
By Rail: There are three stations near to Bera, Rajasthan and they are all frequented by most of the trains in this route. The nearest one is Jawai Bandh is only 22 kms far from Bera, the next one is Falna which is 35 kms and the last one is Udaipur that is 145 kms from Bera, Rajasthan.
By Road: You can reach Bera by road from Major cities are:
Udaipur ( 145 kilometers), Jodhpur (180 kilometers) Ahmadabad (298 kilometers), Jaipur (370 kilometers), New Delhi (625 kilometers), Mount Abu (116 kilometers), Ranakpur (35 kilometers) and Kumbhalgarh Fort (70 kilometers).