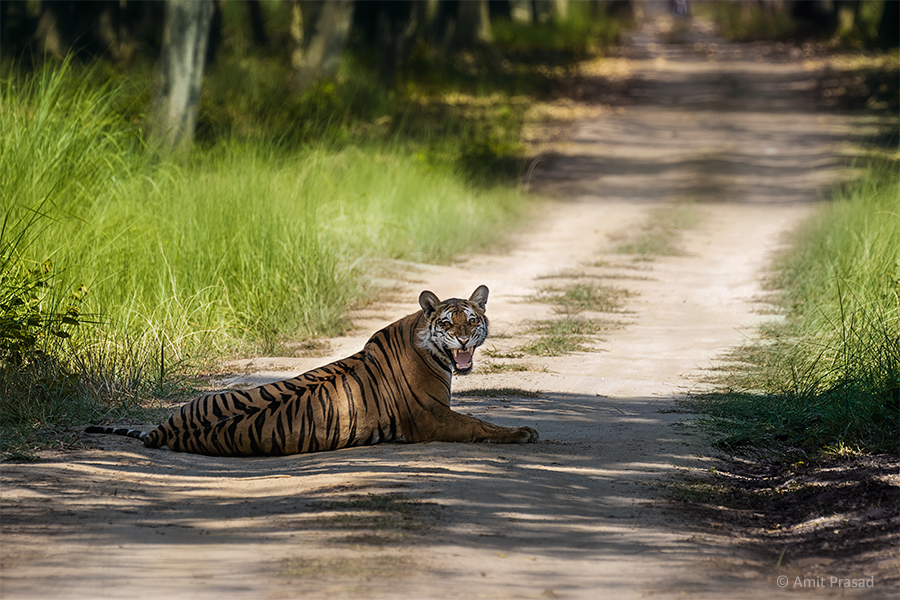 The Dudhwa Tiger Reserve of Uttar Pradesh includes the Dudhwa National Park, and two nearby Sanctuaries, viz. Kishanpur and Katerniaghat, besides forest areas of North Kheri, South Kheri and Shahjahanpur forest divisions in its buffer. The Dudhwa National Park is close to the Indo-Nepal border in the Palia and Nighasan tehsil of district Lakhimpur-Kheri. The Kishanpur Sanctuary is stretched over Gola and Powayan tehsils of Lakhimpur and Shahjahanpur districts respectively. The Katerniaghat Sanctuary is located in the Nanpara tehsil of district Bahraich, with the Indo-Nepal border constituting its Northern boundary.
The area of the park is a vast alluvial plain and is the doab of Mohana and Suheli rivers. The under-lying soil consists of alluvial formation of the Gangetic plains. The area is scoured with channels of numerous large and small water courses. There are a number of rivers and rivulets in the habitat, which include: Suheli, Mohana, Joraha, Nagrol, Nakua and Newra, besides Sharda and Ull.
The Dudhwa National Park is a typical Tarai-Bhabar habitat of the upper Gangetic plains (7a) Bio-geographic province.  The vegetation of the area is of North Indian Moist Deciduous type.
The Katerniaghat portion has a Terai habitat, having linkages with the Royal Bardia National Park of Nepal to the North and the Dudhwa National Park to its West.
Fauna & Flora
The Flora is predominantly Sal forest alongwith its associate tree species like Terminalia alata (Asna), Lagerstroemia parviflora (Asidha), Adina cordifolia (Haldu), Mitragyna parviflora (Faldu), Gmelina arborea (Gahmhar), Holoptelea intgrifolia (Kanju), Acacia catechu (Khair), Pterocarpus marsupium (Vija sal), Kydia calyina (Poola), Lannea coromandelica (Jhigan) and Toona ciliate (Toon).  Others include: Murraya koenigii (Kath neem), Grawia hirsute (Van Tulsi), Malloutus phillipensis (Rohni) and grasses like -Phragmites karka (Narkul), Cynodon dactylon (Doob), Vetiveria zizanioides (Khaskhas) and Erianthus munj (Moonj).
The major mammals include: Panthera pardus (Guldar), Panthera tigris (Tiger), Felis viverrina (Fishing cat), Macaca mulatta (Monkey), Presbytis entellus (Langur), Herpestes edwardsi (Mongoose), Herpestes auropunetatus (Small Indian Mongoose), Viverricula indica (small Indian civet), Canis aureus (Jackal), Mellivora capensis (Honey Badger), Lutra perspicillata (smooth Indian Otter), Boselaphus tragocamelus (Blue bull), Axis axis (Spotted Deer), Axis porcinus (Hog Deer), Muntiacus muntjak (Barking Deer), Cervus duvaceli (Swamp deer), Cervus unicolor (Sambhar), Sus scrofa (Wild Boar), Rhinoceros unicornis (Great Indian Rhino), Elephant maximus (Asian Elephant) and Lepus nigricollis (Hare).
Birds include a wide variety of species, which include migratory and resident ones. As many as 423 species have been observed in the habitat, which include: Podiceps ruficollis  (Dabchick), Pelicnus philipensis (spotbilled pelican), Phalacrocorax carbo (Large cornorant), Phalacrocorax niger (Little cormorant), Ardea cinera (Grey Heron), Ciconia ciconia (White stork), Ciconia nigra (Black storck), Threskiornis aethiopica (White Ibis), Gyps indicus (India Longbilled Vulture), Pandion haliatus (Osprey), Gallus gallus (Red jungle Fowl), Grus antigone (Sarus Crane), Amaurornis phoenicurus (white Breasted water hen) and Ninox scutulata (Brown Hawk owl).
Reptiles include: Mugger, Ghariyal, Python, Sandboa, Banded krait, Russel's viper, Rat snake, Monitor lizard and King Cobra.  There are several fishes, which include: Rohu, Singhi and Kacehala.
Day 1: Lucknow – Dudhwa Tiger Reserve
On arrival at the Lucknow airport/railway station for this wildlife journey.  After reaching, you will be taken to Dudhwa, which is around 230 km from Lucknow and takes around 5-6 hours to reach. After reaching, you will be check-in at the pre-booked FRH and take some rest. After lunch, you will leave for a safari ride into the jungles of Dudhwa Tiger Reserve. After the safari, back to the FRH, Have dinner. Overnight stay at FRH.
Day 2 – 3: Morning & afternoon safari
We will leave for the morning safari, early morning safaris have more chances for sighting the animals. You explore the fauna and flora of the National Park. This safari lasts for around three hours, then return to the FRH. Then freshen up, have breakfast, and rest for a few hours.  After lunch, you will leave for another afternoon safari. After the safari, return to the FRH to relax. Enjoy the delicious dinner and overnight stay at the FRH.
Day 4: Dudhwa – Lucknow Airport/Railway Station 
We will leave for the morning safari then return to the FRH. Then freshen up, have breakfast.  Check out and drop you at Lucknow Airport/ railway station to board the train/flight for your home. Trip Ends
By Air: The nearest Airport to reach Dudhwa Tiger Reserve is Lucknow (260 kms)and 5-6 hours drive.
By Rail: The nearest Railway station are Shehjahanpur ( 115 kms, 2 -3 hrs drive) and Lucknow, which is around 250 kms and 5 -6 hrs drive from railway station.
By Road: Lucknow is well connected to Dudhwa Tiger  Reserve, which is around 250 kms and 5 -6 hrs drive from railway station.