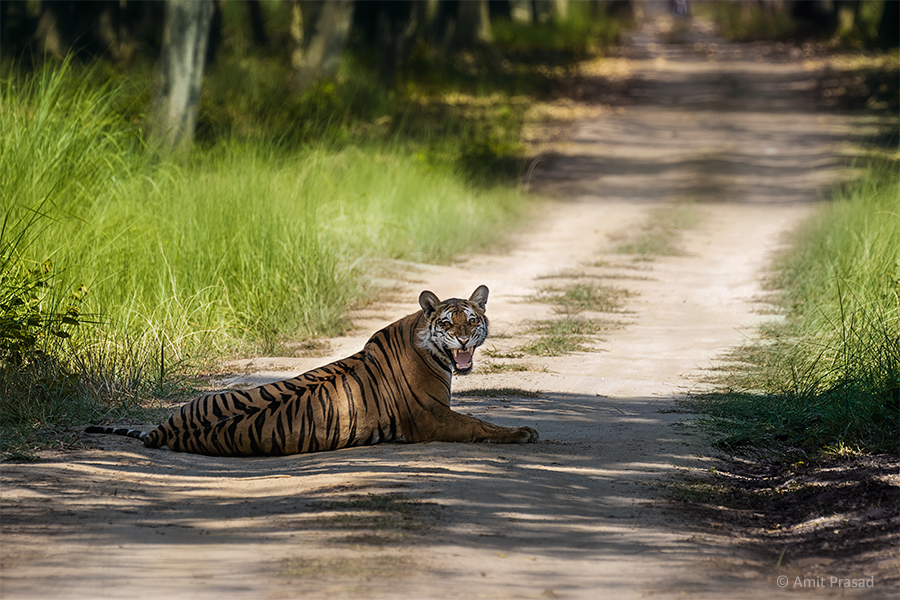 About Dudhwa Tiger Reserve
In spite of the division of the state there are places specially dedicated to big cats in Uttar Pradesh which make it one of the most frequented tourist destinations of Northern India. The Dudhwa Tiger Reserve of Uttar Pradesh is spread over 490 kilometers. It includes two adjacent sanctuaries, Kishanpur and Katerniaghat, which are famous for being abode to some of the rare and near extinction specie like vultures.
Geographically it is situated between Lakhimpur and Kheri district and located besides forest areas of North and South Kheri and there is approximately 190 kilometers of buffer area adjoining Shahjahanpur forest divisions. Other than Dudhwa reserve, there is another sanctuary, Kishanpur that stretches over two lesser known tehsils of Lakhimpur and Shahjahanpur districts, Gola and Powayan. The other sanctuary Katerniaghat is part of the Nanpara tehsil of district Bahraich. The entire region is very close to the Indo-Nepal border constituting its Northern boundary and that is why it is also a constant threat because of the poachers activities but thanks to the support of the locals of the region, and increased awareness about protection of the wildlife, now we see less instances of those elements..
The area of the park is a vast alluvial plain and is the doab of Mohana and Suheli rivers. The under-lying soil consists of alluvial formation of the Gangetic plains. The area is scoured with channels of numerous large and small water courses. There are a number of rivers and rivulets in the habitat, which include: Suheli, Mohana, Joraha, Nagrol, Nakua and Newra, besides Sharda and Ull.
This area is classified as the Moist Deciduous type region of the northern India. Its Katerniaghat part is often linked to the prestige of Nepal, Royal Bardia National Park which is located in the North. From the Nepal region it will appear to be on the  West.
Fauna & Flora
Dudhwa Tiger Reserve is a treat for the natural lovers and bird watchers thanks to its wild and picturesque It is literally unexplored, and virtually less trodden path, giving way to people with keen interest in nature.  This tiger reserve offers predominantly food for bird watchers, wildlife enthusiast's and natural lovers.
Besides hosting tigers, reptiles, the park is abode to the major mammals that include: Panthera pardus (Guldar), Panthera tigris (Tiger), and Felis viverrina (Fishing cat). It also has different specifies of monkeys including Macaca mulatta (Monkey), Presbytis entellus (Langur), and Herpestes edwardsi (Mongoose), Herpestes auropunetatus (Small Indian Mongoose), Viverricula indica (small Indian civet), Canis aureus (Jackal),
Besides the monkeys it also mellivora capensis (Honey Badger), Lutra perspicillata (smooth Indian Otter), Boselaphus tragocamelus (Blue bull), Axis axis (Spotted Deer), Axis porcinus (Hog Deer), Muntiacus muntjak (Barking Deer), Cervus duvaceli (Swamp deer), Cervus unicolor (Sambhar), Sus scrofa (Wild Boar), Rhinoceros unicornis (Great Indian Rhino), Elephant maximus (Asian Elephant) and Lepus nigricollis (Hare).
 Among the birds who are migratory other than the regular residents that include a wide variety of birds. There is as many as 423 species have been observed in the habitat, which include: Podiceps ruficollis  (Dabchick), Pelicnus philipensis (spotbilled pelican). In the flora, phalacrocorax carbo (Large cornorant), Phalacrocorax niger (Little cormorant), Ardea cinera (Grey Heron), Ciconia ciconia (White stork), Ciconia nigra (Black storck), Threskiornis aethiopica (White Ibis), and some of the less known scavengers from India Longbilled Vulture), Pandion haliatus (Osprey), Gallus gallus (Red jungle Fowl), and Grus antigone (Sarus Crane), find their apt mention from the wildlife lovers visiting the park.
 Besides the rich flora and fauna it is also hosts reptiles that include: Mugger, Ghariyal, Python, Sandboa, Banded krait, Russel's viper, Rat snake, Monitor lizard and King Cobra.  Besides these amphibian there are varieties of variousl fishes, which include: Rohu, Singhi and Kacehala.