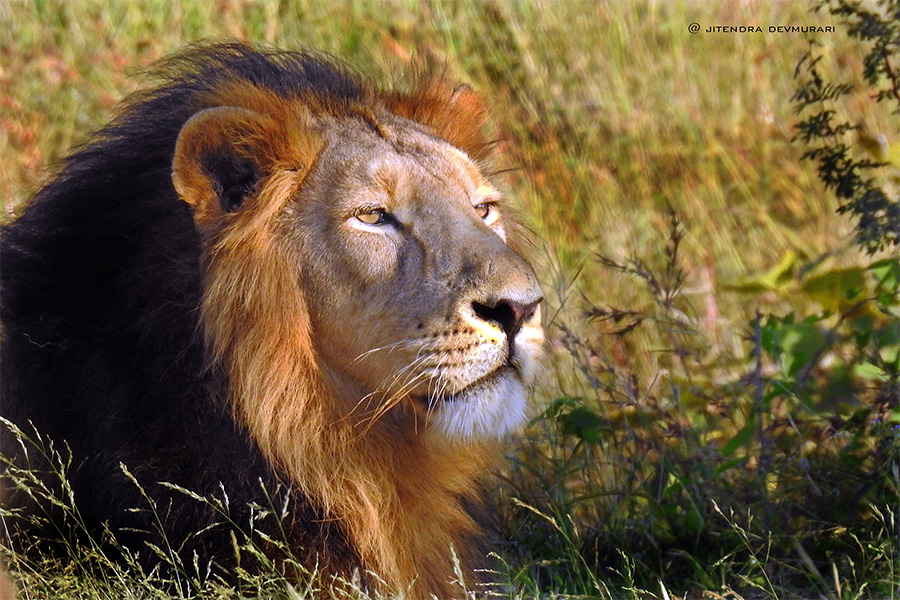 Gir is a beautiful place, located in the Junagadh district of the state of Gujarat. Gir National Park is one of the unique park in India. Total area of Gir forest is about 1412 km2. 
The Gir National Park and wildlife sanctuary is located about 60 km south east in the Junagadh district of Gujarat. Park and wildlife sanctuary also known as Sasan Gir or Gir Van. Gir is the only natural habitat of world popular Asiatic Lions.
Gir forest was declared a wildlife sanctuary in 1965. The total area of the sanctuary is about 1153.42 km2. Gir forest (258.71 km2. area) was declared as a National park in 1975. Total area of the National park is about 258.71 km2.
The Gir National Park and Sanctuary lie in the south-west of the Saurashtra peninsula in the state of Gujarat. In past, the Gir forest was the hunting reserve of the Nawabs of Junagadh. During the British Raj, lions were hunted mercilessly by the British officers assisted by the obliging Maharajas and Nawabs. In 1900, the famine decreased the lion population so badly that Lord Curzon cancelled his shoot in Gir where he had been invited by the Nawabs for a Shikaar. The Government of India banned the hunting of lion in the year of 1960.
The 14th Asiatic Lion Census 2015 was conducted in May 2015. In 2015, the population has been 523. The population was 411 in 2010 and 359 in 2005. The population of lions in Junagadh District has been 268, Gir Somnath District has been 44, Amreli District has been 174 (highest increase) and Bhavnagar District has been 37. There are 109 males, 201 females and 213 young/cubs.
Fauna & Flora
Teak (Tectona grandis), Dhavdo (Anogeissus latifolia), Khair (Acacia catechu), Sadad (Terminalia crenulata), Timru (Diospyros melanoxylon), Babul (Acacia nilotica), Amla (Phyllanthus emblica), Moledi (Lannea coromandelica), Kadayo (Sterculia urens), Jambun (Syzygium cumini), Karanj (Pongamia pinnata), Umro (Ficus racemosa), Vad (Ficus bengalensis), Kalam (Mitragyna parviflora), Charel (Holeptelia integrifolia), Sirus (Albizzia lebbeck), Amli (Tamarindus indica), Bahedo (Terminalia bellerica), Semal (Bombax ceiba), Bor (Zizyphus mauritiana), Khakhar (Butea monosperma) and Asundro (Bauhinia racemosa).
Mammals – Lion, Sambar, Chital, Blue bull, Four-horned antelope, Wild boar, Jackal, Striped Hyena, Jungle cat, Bear, Rusty-spotted cat, Langur, Porcupine, Leopard, Fox, Common mongoose, Indian porcupine, Chinkara, Golden jackals, Desert cat, Blackbucks etc.
Birds – Shrike, Gray Drongo, Pied Woodpecker, Black Ibis, Shaheen Falcon, Bonelli's Eagle, Great Horned Owl, Tawny eagle, Jungle Bush Quail, Grey Partridge, Nightjar, Black-headed Cuckoo, Painted Sandgrouse, common green pigeon, Crested serpent eagle, orange headed ground thrush, paradise flycatcher, Indian pitta, Shrikes, Drongos, Barbets, Indian Rollers, Grey Partridge etc.
Day 1: Rajkot  – Gir National Park
On arrival at the Rajkot airport for this wildlife journey.  After reaching, you will be taken to Gir, which is around 165 kms from Rajkot and takes around 3-4 hours to reach. After reaching, you will be check-in at the pre-booked lodge and take some rest. After lunch, you will leave for a safari ride into the jungles of Gir National Park. After the safari, back to the lodge, Have dinner. Overnight stay at Gir.
Day 2 – 3: Gir National Park
We will leave for the morning safari, early morning safaris have more chances for sighting the animals. You explore the fauna and flora of the National Park. This safari lasts for around three hours, then return to the lodge. Then freshen up, have breakfast, and rest for a few hours.  After lunch, you will leave for another afternoon safari. After the safari, return to the lodge to relax. Enjoy the delicious dinner and overnight stay at the Gir.
Day 4: Gir – Rajkot Airport 
We will leave for the morning safari then return to the lodge. Then freshen up, have breakfast.  Check out and drop you at Rajkot Airport to board the flight for your home. Trip Ends
By Air: The nearest airport to Gir National Park is Keshod, which is around 85 km away from Gir. The second nearest airport is Rajkot at 140 km away which can be easily accessed by other airports of the country.
By Rail: The nearest railway stations to Gir National Park are Junagadh (80 km) and Veraval (72 km). Along with that, Rajkot railway station, situated at a distance of almost 165km from the Gir forest is also an ideal option.
By Road: You can reach Gir from major cities are:
From Ahmedabad – 410 km
From Rajkot – 160 km
From Junagadh – 55 km
From Veraval – 45 km
From Somnath – 50 km
From Keshod – 45 km
From Diu – 110 km