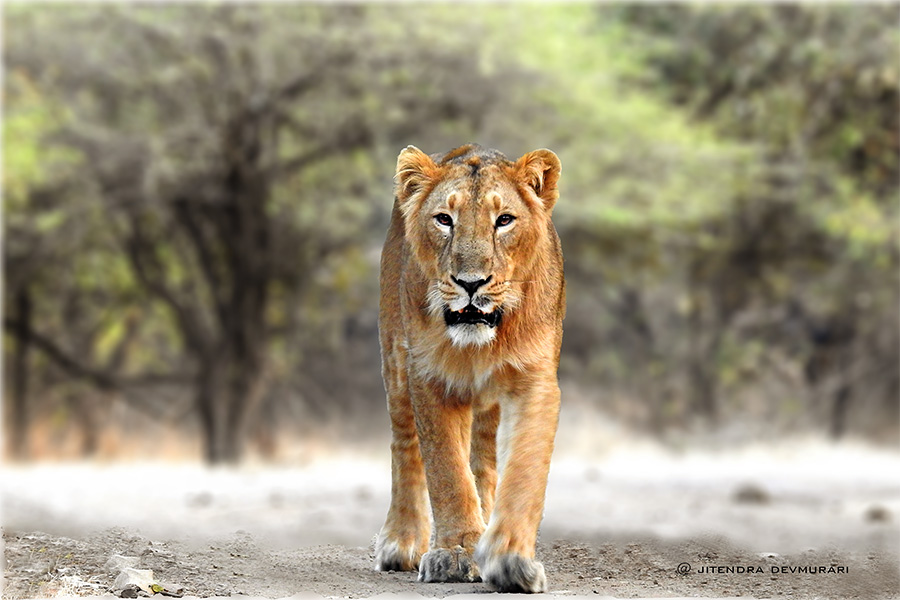 About Gir National Park
Gir park is located in the Junagadh district of Gujarat state. It was established in 1965 to protect the asiatic lions. It is spread over 1412 km of area. Geographically it is located about 60 km south east in the Junagadh district of Gujarat. This wildlife sanctuary is also known as Sasan Gir or Gir Van. The park is the only natural habitat of famous Asiatic Lions. There has been marked improvement in the number of lions which went up from 359 in 2005 to 523 according the the line census conducted in 2015. It shows the positive impact of the planned enclosure and fencing. In the year 1975 Gir forest (258.71 km2. area) was declared as a National park.
This lion sanctuary lies in the south-west of the Saurashtra peninsula in the state of Gujarat. It was the hunting reserve of the Nawabs of Junagadh. During the British rule, lions were targeted for medal hunting by the British officers. The Maharajas and Nawabs of the region had to oblige them to earn their favor. Clubbed with the frequent hunting, the number of lions was significantly reduced in 1900, due to a famine. The lion's number decreased so badly that Lord Curzon had to cancel his planned shooting in Gir. After independence, the Government of India banned the hunting of lions from 1960.
The population of lions in Junagadh District has been 268, Gir Somnath District has been 44, Amreli District has been 174 (highest increase) and Bhavnagar District has been 37. There are 109 males, 201 females and 213 young/cubs.
 Fauna & Flora
The alluvial land makes it perfect place to grow teakwood (Tectona grandis), Dhavdo (Anogeissus latifolia), Khair (Acacia catechu), and Sadad (Terminalia crenulata). The native plants like Timru (Diospyros melanoxylon), Babul (Acacia nilotica), Amla (Phyllanthus emblica), Moledi (Lannea coromandelica), and Kadayo (Sterculia urens) grow in plenty. It also has trees and plants of medicinal properties like Jambun (Syzygium cumini), Karanj (Pongamia pinnata), Umro (Ficus racemosa), Vad (Ficus bengalensis), Kalam (Mitragyna parviflora), Charel (Holoptelea integrifolia), and Sirius (Albizzia lebbeck). The land offers conducive ground for plants like Amli (Tamarindus indica), Bahedo (Terminalia bellerica), Semal (Bombax ceiba), Bor (Ziziphus mauritiana), Khakhar (Butea monosperma) and Asundro (Bauhinia racemosa) to grow.
 It has over 50 different species of Mammals – including Lion, Sambar, Chital, Blue bull, Four-horned antelope, and wild boar to name a few. It offers an ideal hunting ground for animals Jackal, Striped Hyena, Jungle cat, bears, and rusty-spotted cat, and leopards. Besides Langur, Porcupine, Leopard, Fox, Common mongoose, Indian porcupine, Chinkara, it is also home to Golden jackals, Desert cat, and Blackbucks etc.
Avian life—The park is home to resident as well as migratory birds – one can catch the glimpse of shrike, Gray Drongo, Pied Woodpecker, Black Ibis, Shaheen Falcon, and different species of eagles like Bonelli's Eagle, and Tawny eagle. From nocturnal birds like Great Horned Owl, to Nightjar, the park offers treat to the birdwatchers. The park has Jungle Bush Quail, and Grey Partridge, Black-headed Cuckoo, Painted Sandgrouse, common green pigeon, Crested serpent eagle, orange headed ground thrush, paradise flycatcher, Indian pitta, Barbets, Indian Rollers, and Grey Partridge to name a few. All round the year the park attracts birds from different regions to flock to the place for a conducive habitat.