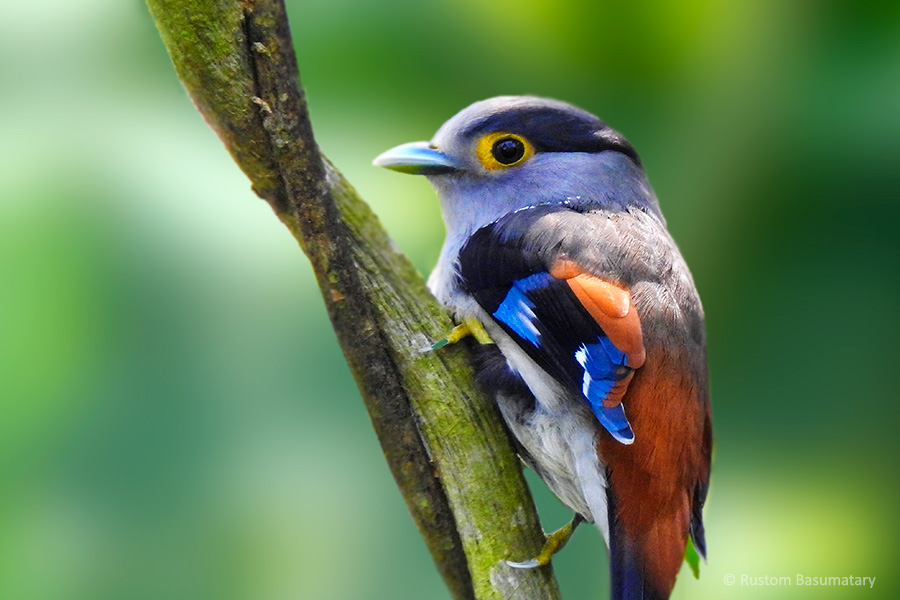 About Manas
Manas Wildlife Sanctuary is located in the State of Assam in North-East India, a biodiversity hotspot. Covering an area of 39,100 hectares, it spans the Manas river and is bounded to the north by the forests of Bhutan. The Manas Wildlife Sanctuary is part of the core zone of the 283,700 hectares Manas Tiger Reserve, and lies alongside the shifting river channels of the Manas River. The site's scenic beauty includes a range of forested hills, alluvial grasslands and tropical evergreen forests. The site provides critical and viable habitats for rare and endangered species, including tiger, greater one-horned rhino, swamp deer, pygmy hog and Bengal florican. Manas has exceptional importance within the Indian sub-continent's protected areas, as one of the most significant remaining natural areas in the region, where sizeable populations of a large number of threatened species continue to survive.
Flora and Fauna
Flora
Vegetation: The monsoon forests of Manas lie in the Brahmaputra Valley semi-evergreen forests ecoregion.[5] The combination of Sub-Himalayan Bhabar Terai formation with riverine succession leading up to the Himalayan subtropical broadleaf forests makes it one of the richest biodiversity areas in the world.
The main vegetation types are:
Sub-Himalayan Light Alluvial Semi-Evergreen forests in the northern parts.
East Himalayan mixed Moist and Dry Deciduous forests (the most common type).[6][circular reference]
Low Alluvial Savanna Woodland, and
Assam Valley Semi-Evergreen Alluvial Grasslands which cover almost 50% of the park.
Much of the riverine dry deciduous forest is at an early successional stage. It is replaced by moist deciduous forest away from water courses, which is succeeded by semi-evergreen climax forest in the northern part of the park. A total of 543 plants species have been recorded from the core zone. Of these, 374 species are dicotyledons (including 89 trees), 139 species monocotyledons and 30 are Pteridophytes and Gymnosperms.
Fauna
The sanctuary has recorded 55 species of mammals, 380 species of birds, 50 of reptiles, and 3 species of amphibians. Out of these wildlife, 21 mammals are India's Schedule I mammals and 31 of them are threatened.
The fauna of the sanctuary include Indian elephants, Indian rhinoceros, gaurs, Asian water buffaloes, barasingha, Indian tigers, Indian leopards, clouded leopards, Asian golden cats, dholes, capped langurs, golden langurs, Assamese macaques, slow loris, hoolock gibbons, smooth-coated otters, sloth bears, barking deers, hog deers, black panthers, sambar deers and chitals.
The park is well known for species of rare and endangered wildlife that are not found anywhere else in the world like the Assam roofed turtle, hispid hare, golden langur and pygmy hog.
The Manas hosts more than 450 species of birds.[8] It has the largest population of the endangered Bengal florican to be found anywhere. Other major bird species include great hornbills, jungle fowls, bulbuls, brahminy ducks, kalij pheasants, egrets, pelicans, fishing eagles, crested serpent-eagles, falcons, scarlet minivets, bee-eaters, magpie robins, pied hornbills, grey hornbills, mergansers, harriers, Indian Peafowl, ospreys and herons
Day 1:  Guwahati Airport –  Manas National Park (140 kms, 4 – 5 hours by road)
Scenic Views
Once you reach Guwahati airport/railway station, you will be warmly greeted and driven to the Manas National Park. Though this journey will take some time, the scenic views all through the journey might make you forget about the time constraint! Upon arrival at the park, you will be checked-in into a hotel. Relax and revive yourself with the pleasant outlook and pristine atmosphere of the surroundings; overnight stay at the hotel.
Day 2 – 3:  Manas National Park
Elephant and Jeep Safari, Rhinos, Tigers, Leopards, Wild Buffalos, Campfire
The day will start early in the morning with a delightful Elephant Safari around the park. Following this ride, you will be guided back to the hotel and breakfast will be served. Post this, a Jeep Safari will take to some of the remote areas of the park. Spot the One-horned Rhinos, Asian Elephants, Indian Tigers, Leopards, Golden Langur and some of the other rare and endangered animals during this safari. Assam Roofed Turtle, Hispid Hare and Wild Water Buffalo are some of the indigenous species of this park that are on extinction. After this, you will be escorted back to the hotel; overnight stay in the hotel.
Day 4:  Manas – Guwahati Airport
Tour Ends Here
Post breakfast, you will be driven to Guwahati. Upon arriving in the city, you will be dropped-off at the airport/railway station. This mesmeric tour will finally come to an end with your drop-off.
How  to Reach:
By Air: The nearest airport to reach Guwahati Airport, which is around 140 km and takes around 04-05 Hrs drive
By Rail: Guwahati is gateway to the North East India. All major cities of India are well connected to Guwahati including Rajdhani Express.
There are several trains stops at Barpeta Road Railway Station, which is 22 kms to Bansbari (MusaJungle Retreat, Manas) by road.
By Road: Manas is accessible from Guwahati (136 km), Kaziranga (403 km), Darjeeling (466 km), Shillong (287 km) and Siliguri (386 km) by road.