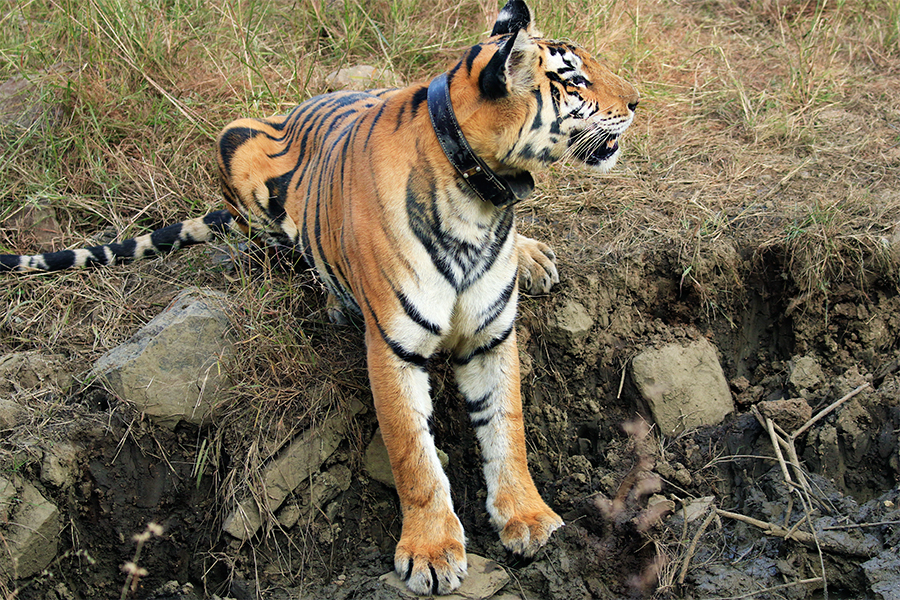 Panna National Park located in Panna and Chattarpur district of Madhya Pradesh is formally being renowned as the 22nd tiger reserve of India and fifth in Madhya Pradesh. By covering an area of 542.67 sq km, Panna Reserve lies besides the areas of the Ken River at the central state of India, Madhya Pradesh at a distance of 57 km from Khajuraho, a world heritage center. Panna Tiger Reserve was being found as the best managed and maintained national parks of India by the Ministry of Tourism of India and this reputation brought the park the Award of Excellence in the year 2007. Thanks to all the efforts of Mr. R. Shreenivasa Murthy, a forest officer of the area who brought his best efforts to bring the Panna Park as the best managed and developed park in the area, in collaboration with his team.
In the tropical region of Panna the climate of the reserve area is sometimes so pleasant, sometime so scorching during summers but with heavy rainfalls the area is again plush with greenery to make the ambience more appealing.
Ken River flows through this reserve and creates beautiful waterfalls on its way to the valley. The park has numerous sites of historical importance with stone paintings dating back to Neolithic era. The ideal home to Indian tigers, Panna is composed of deciduous forests to include other species like Indian wolf, four-horned antelope, sloth bear pangolin, rusty spotted cat, leopard, carcal and gharial.
Fauna & Flora
Although Panna seems to be one of many ordinary national parks across the country, the park is much more than that. The Park is a haven to many exotic species of plants and animals. The dry and hot climate of Panna Biosphere brings dry Teak and dry mixed forest. The major vegetation of the park is miscellaneous dry deciduous forest mixed with grassland area.
It is also home to a great variety of wildlife species. Endangered animals like Tiger, Leopard and Chinkara have found their haven in Panna Biosphere. Other exotic animals like Chital, Nilgai, Sloth Bear, Sambhar are also present in their natural habitat. Panna is also home to more than 200 species of birds including the King vulture, Indian Vulture and bar-headed goose.
Day 1: Khajuraho Railway Station – Panna Tiger Reserve
On arrival at the Khajuraho Airport/Railway Station (30 km)/Satna Railway Station (90 Kms)/Jhansi Railway Station (180 km)/Katni Railway Station (150 Kms) from Panna Tiger Reserve.  Khajuraho Airport/Railway station is the nearest airport/railway station from Panna Tiger Reserve. After reaching Khajuraho, we will be leaving for Panna Tiger Reserve. Enroute visit Khajuraho Temples (Eastern and Western Group of Temples). After visiting the temple, we will be leaving for Panna Enroute visit, Raneh Falls. After reaching, you will be check-in at the pre-booked hotel/resort/Lodge and take some rest. Have dinner. Overnight stay at resort/hotel/Lodge.
Day 2 – 3: Morning & afternoon safari
We awaken early within the morning and make our way for our first jungle safari (game drive) into the park. We board the open topped jeep (Four wheel drive) and drive further to park gate, where we'd like to point out all of them the required permits. One forest guide also gets in each jeep from the park gate whenever to accompany us.
Day 4: Departure to Khajuraho Railway Station/Airport
Morning safari then back to resort/lodge. Freshen up, after breakfast, we'll inspect from the resort and drive to Khajuraho to board the flight/train back to your home.
Nearest Airport:  Khajuraho(25 km)
Nearby main Railheads :
Khajuraho (30 kms) for those travelling from Delhi
Jhansi (180 km) for those traveling from Mumbai, Delhi and Chennai.
Satna (90 km) for those traveling from Delhi, Kolkata and Varanasi
Katni (150 km) for those traveling from Mumbai, Chennai and Nagpur.