Ranthambore Tiger Reserve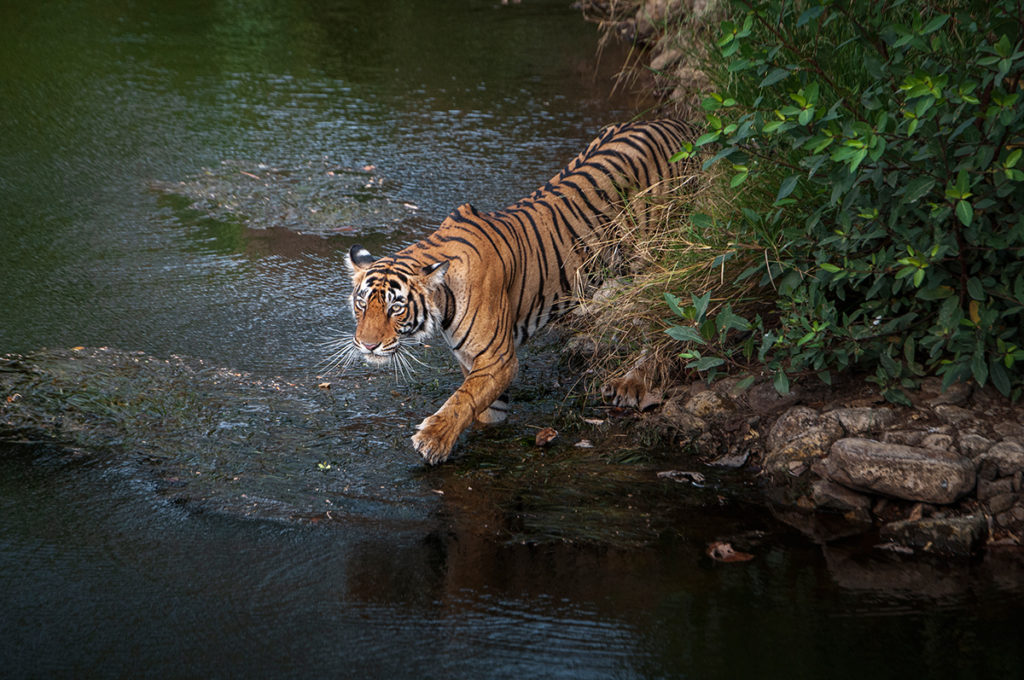 Ranthambhore National Park or Ranthambhore is a national park in northern India, initially covering 282 km² at the time it was formed. Ranthambhore was established as the Sawai Madhopur Game Sanctuary in 1955 by the Government of India and was declared one of the Project Tiger reserves in 1973. Ranthambhore became a national park on 1 November 1980. In 1984, the adjacent forests were declared the Sawai Man Singh Sanctuary and Keladevi Sanctuary. In 1992, the Tiger Reserve was expanded to include the adjoining Keladevi Sanctuary in the north and Sawai Mansingh sanctuary to the south along with other forests *. Today it covers an area of 1334 sq. km.
Ranthambhore wildlife sanctuary is known for its Bengal tigers, and is a popular place in India to see these animals in their natural jungle habitat. Tigers can be easily spotted even in the daytime. The best times for tiger sightings at Ranthambhore National Park are deemed to be in November and May. The park's deciduous forests are characteristic examples of the type of jungle found in Central India. Other fauna include the Indian leopard, nilgai, wild boar, sambar, striped hyena, sloth bear, southern plains gray langur, rhesus macaque, mugger crocodile and chital. The sanctuary is home to a wide variety of trees, plants, birds and reptiles, as well as one of the largest banyan trees in India.
It is situated in the Sawai Madhopur district of southeastern Rajasthan, about 110 km northeast of Kota and 140 km southeast of Jaipur, which is also the nearest airport. The nearest town and railway station are at Sawai Madhopur, about 11 km away. The park is also close to the Kota railway station. RIDCOR operates a mega-highway between Kota and Ranthambhore. Ranthambore National Park lies at the edge of a plateau and is bounded to the north by the Banas River and to the south by the Chambal River. It is named after the historic Ranthambore fortress, which lies within the park.
Day 1: Jaipur/Sawai Madhopur – Ranthambore
On arrival at the Jaipur airport/Sawai Madhopur railway station for this wildlife journey.  After reaching, you will be taken to Ranthambore, which is around 145 km from Jaipur and takes around 2 and a half hours to reach and around 8 km from Sawai Madhopur railway station and takes around 15 min to reach. After reaching, you will be check-in at the pre-booked hotel/resort/Lodge and take some rest. After lunch, you will leave for a safari ride into the jungles of Ranthambore National Park. After the safari, back to the hotel/resort/lodge, Have dinner. Overnight stay at resort/hotel/Lodge.
Day 2 – 3: Ranthambore National Park
We will leave for the morning safari, early morning safaris have more chances for sighting the animals. You explore the fauna and flora of the National Park. This safari lasts for around three hours, then return to the hotel/resort/lodge. Then freshen up, have breakfast, and rest for a few hours.  After lunch, you will leave for another afternoon safari. After the safari, return to the Resort/Hotel/Lodge to relax. Enjoy the delicious dinner and overnight stay at the hotel/resort/lodge.
Day 4: Ranthambore – Jaipur/Sawai Madhopur
On the last day, you will be visiting Ranthambore Fort. The Fort is known for the glory and valor of the Chauhan dynasty, it is huge and takes around two hours to complete. After visiting the fort, back to resort/hotel/lodge. Have breakfast and then check out and drop you at Jaipur/Sawai Madhopur railway station to board the train /flight for your home. Trip Ends
By Air: The nearest airport to reach Ranthambore Tiger Reserve is Jaipur, which is around 170 km and takes around 3 hrs to reach.
By Rail: : The nearest railway station to Ranthambore Tiger Reserve is Sawai Madhopur, which is around 8 km and takes around 15 min to reach. The nearest railway station to Ranthambore Tiger Reserve is Sawai Madhopur, which is around 8 km and takes around 15 min to reach. There are direct trains to Sawai Madhopur station from the major cities of India like Jaipur, Delhi, Mumbai and others. The station is a heritage railway station and awarded for the best tourist friendly station in India. Many luxury trains such as Palace on Wheels, Royal Rajasthan on Wheels, Maharaja Express and The Indian Maharaja are scheduled to make a stop here.
By Road: You can reach Ranthambore by road from Major cities are Jaipur (170kms), Delhi (370kms) and Agra (260kms).