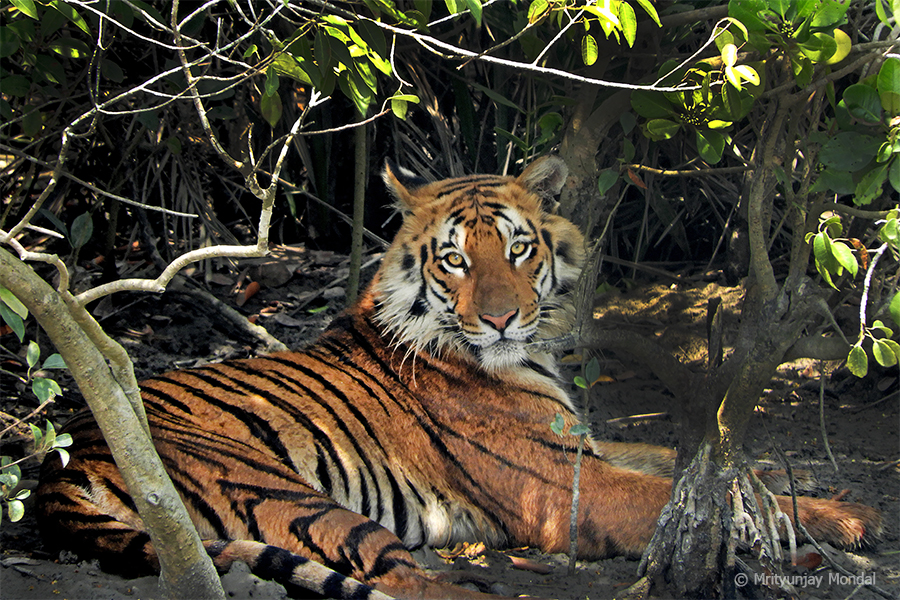 The history of Sunderbans can be traced as far back as 200-300 AD. It is believed that the forests of Sunderbans were leased to the nearby residents during the Mughal period, who built settlements in them. In the coming years, however, those settlements were attacked by the Portuguese and salt smugglers in the 17th century. All that remains today are their ruins, most of which can be traced at a place called Netidhopani.
It was in 1875 under the Forest Act, 1865 (Act VIII of 1865) that a large part of these forests were declared as "reserved". Post-independence, it was declared a wildlife sanctuary in 1977 and established as a national park on 4th May, 1984. In the year 1978, Sundarbans were declared a national park, and in 1973, they were declared a tiger reserve under Project Tiger.
Fauna & Flora
Flora: Inside the dense forests of Sunderbans National Park reside a rich variety of flora. The 64 plant species which are found however, have learned to survive in brackish waters and saline inundation. Some of the common species of plants which are found include Sundari tree, Golpati, Champa, Dhundul, Genwa and Hatal. It is estimated that there are about 78 species of mangroves in these forests. They are extremely important because of the important role they play in the survival of marine organisms. From a distance, these halophytes exude an aura of mystery, who knows what the darkness within has to offer.
Fauna: Wildlife tourism is a major factor behind tourists visiting Sunderbans, and rightly so. After all, you've heard that it is home to a rich variety of wildlife, with the Royal Bengal Tigers enjoying a large presence. Nothing makes the tourists more excited than a tiger sighting. While that majestic cat certainly deserves all the attention and spotlight, there are other kinds of birds and wildlife animals who call these mangrove forests their home.
Apart from the Royal Bengal Tiger, other animals found in these areas are fishing cats, macaques, leopard cats, Indian grey mongoose, wild boar, flying fox, pangolin, and Indian grey mongoose. The chital deer and rhesus monkey are common sightings.
Sundarban is also famous for its marine life, and is quite rich in it. A crocodile seated leisurely on a mudflat, basking in the afternoon sun, draws an array of reactions from onlookers. Other than the saltwater crocodile, other kinds of aqua life include red fiddler crabs and hermit crabs. While many people may not be aware of it, but Sundarban National Park is home to a large number of reptiles. Some of the more famous ones are water monitor, king cobra and rock python.
Day 1: Kolkata Airport/Railway Station – Sundarbans
Pick up from Kolkata railway station/airport. Leave for Godkhali (3hrs drive). After reaching Godkhali, leave for Sajnekhali Interpretation Centre if time permits on Day 1 otherwise we will visit it on day 2 (2hrs drive by boat frpm Godhkali ) Explore the centre for around 2 hours/directly reach at Resort, Overnight stay at resort.
Day 2: Sundarbans Tiger Reserve
Full day boat safari and then evening local Bonobibi drama. Overnight stay at resort.
Day 3: Sundarbans Tiger Reserve
Full day boat safari and then evening  Village Visit. Interaction with locals and attack survivors and their daily challenges in living there. Overnight stay at resort.
Day 4: Sundarbans Tiger Reserve
Half day boat safari and then proceed to Ranga Belia Tagore Society. Overnight stay at resort.
Day 5: Sundarbans Tiger Reserve – Kolkata Railway Station/Airport
Check out from resort and then leave for Godkhali (2 hrs boat drive). After reaching Godkhali again 3 hrs drive to Kolkata/station by road.
By Air: The nearest airport to the Sunderban Tiger Reserve is Netaji Subhash International Airport at Dumdum, Kolkata, which is around 92 kms and takes around 3 hours to reach at Godkhali point.
By Rail: The nearest railway station link is Canning. It is approximately 48 kilometers away from the Sunderban Tiger Reserve. From Sealdah (Kolkata), it is 80 kilometers from Tiger reserve, there are many local trains to Canning throughout the day after which you can choose to travel by a bus to Namkhana, Raidighi, Sonakhali and Najat.
By Road: A well-laid network of roadways interface Kolkata to Sunderbans with a proximate distance of 110 kms . Above mentioned embarkation points from Kolkata are: Namkhana (105 km), Sonakhali (100 km), Raidighi (76 km), Canning (64 km), Najat (92 km).