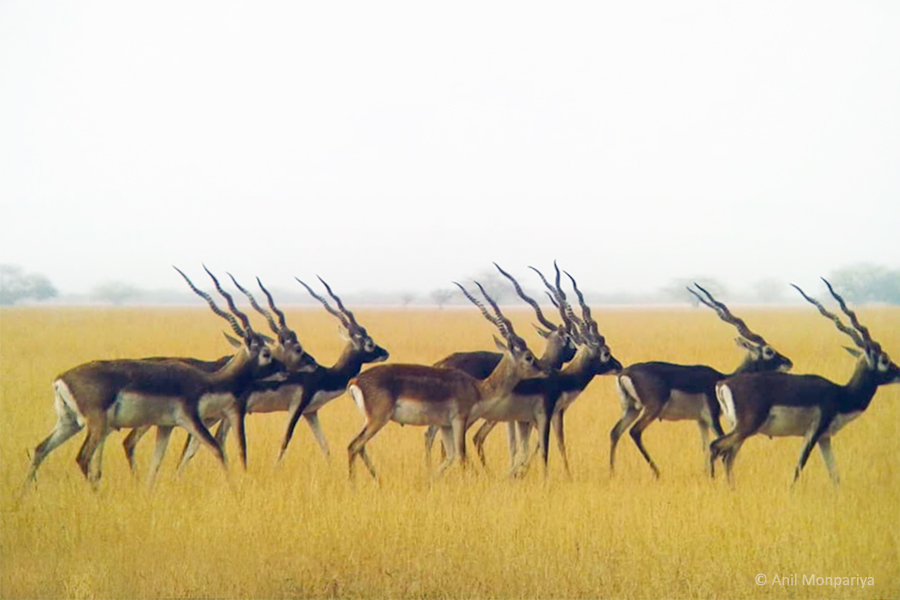 About Velavadar (Blackbuck) National Park
You call it the picturesque sight of serene lush green surroundings, Velavadar Blackbuck National Park in Bhavnagar offers something exciting to everyone. This park houses the population of blackbuck herds which is a rarity in India. This park was built in 1976, and by the year 1980, its area was extended to double its original area. Currently, the park is spread around 34 square km. It is the roughly one-sixth size of the city of the capital of Gujarat.
Nature Lovers Paradise
Thanks to its elusive and luxurious appeal this park acts as the magnet for nature lovers and wildlife enthusiasts. This National Park was a private possession of the Maharaja of Bhavnagar initially. Those visiting this place will also catch the sight of the sizeable amount of birds besides the native blackbuck herd.  There are animal species that find this small wetland to be their abode which includes India's largest herds of antelope. The other species which finds this place as its natural habitat is the Indian nilgai (another Indian antelope). Jackal, wolf, jungle cat, and fox are other attractions of this park.
Nature lovers visiting this park may use Jeep safari to roam around or opt for trekking to explore the best of Velavadar National Park. A word of caution! Avoid visiting the Velavadar National Park during the monsoon region as the area is excessive rain and flood vulnerable.
In the avian species, this park is populated by flamingos, white and colored storks, pelicans, three kinds of cranes, and many birds of prey. It also attracts the rare Stolizca's Bushchat which is one of the rarest migratory bird species that love the captivating blue sky above and clear mirroring water beneath.
Fauna & Flora
Besides the antelope, there are other mammals spotted in the Velavadar National Park which are Indian Wolves, Blackbuck, Striped Hyena to name a few.
Birds found in the park
Velavadar National Park is home to some of the rare migratory birds like Stoliczka's Bush Chat, ar Falcon, Black-Shoulder Kite Shikra, and Florican. Indian birds like Saras Crane, Short-Toed Eagles, Kestrel, Lagg Flamingos, Pelicans, Storks, Ibises, and Spoonbill can also be seen here.